One of the biggest events of its kind in the UK.
Witness the marvel that is the ever-rotating cast of Joe Black's 'House of Burlesque' at the Kings Theatre in Portsmouth.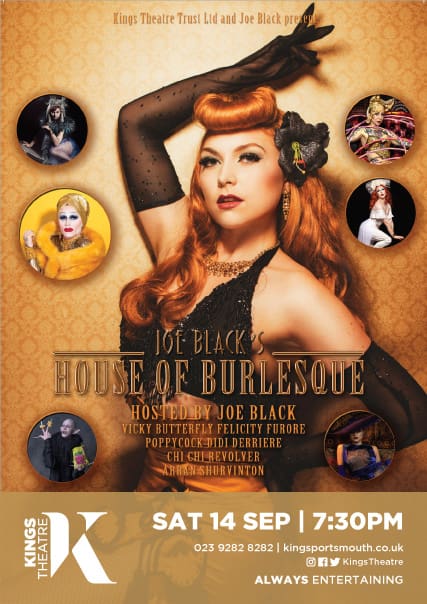 HOSTED BY…
JOE BLACK – Infamous cabaret reprobate and drag clown raconteur!
FEATURING…
VICKY BUTTERFLY – British burlesque legend. Anachronistic elegance and grace!
DIDI DERRIERE – Award winning burlesque bombshell!
FELICITY FURORE – Playful yet dangerous! Glamorous yet scandalous!
POPPYCOCK – All singing all dancing drag diva powerhouse!
CHI CHI REVOLVER – Guinness world record holding hula hooping extraordinaire!
ARRAN SHURVINTON – Creepy creature impersonator and nonsensical nosferatu glamour ghoul!
14+
DRESSING UP ENCOURAGED.